What is a website for? There are many possible answers to that question: publishing, educating, selling, entertaining, communicating, community-building, and so on. But there is a common thread. A website exists to capture people's' attention and influence them to take an action. The action might be to read an article, to buy a product, to provide information, or something else. For business sites, once a person's attention has been captured, the objective is to persuade them to convert, to carry out an action that satisfies a goal of the business. Landing pages play an essential role in converting people from visitors to customers or leads.
What Is A Landing Page?
A landing page is a self-contained page on a business website. It is the destination of a link distributed via online or offline advertising, email marketing, or social media. Its aim is to elicit a single, well-defined action. What does action mean in this context? It depends on the type of landing page, but common conversion goals include a purchase, a subscription, or the submission of contact details.
A landing page exists to convert visitors. As such, it falls outside of a site's standard architecture. A landing page is not a blog article, a homepage, or a product page. It is a standalone page with a job to do.
It's worth emphasizing that a landing page is not a homepage. A homepage is the default entry point to a website. It establishes the site's value and presents the visitor with options, whether that's content, products, or services. It is the top-level of the site's navigation, and is responsible for helping visitors find the information they need, linking to other important pages on the site. A landing page, on the other hand, is tightly focused on a single goal — conversion. Most landing pages have minimal navigation. They rarely encourage visitors to explore the site.
A landing page can be a homepage for businesses with a clear and simple product offering. DropBox is an example of a service that uses its homepage as a landing page. This approach works well for a SaaS businesses with a simple product, but most businesses should consider creating separate landing pages for their products and services.
Types Of Landing Page
A lead-generation landing page is, as the name suggests, a landing page designed to capture contact information, which might include email addresses, contact and business names, phone numbers or other details useful for lead scoring and sales. Often used in B2B marketing, lead-generation pages range from simple pages with a call to action and an email address form to more complex pages with gated content.
A squeeze page is a simple lead-generation page that collects email addresses from visitors. Squeeze pages often offer gated premium content in exchange for contact details.
A click-through landing page‌ leads directly to a sign-up page or a sales page. You won't find forms on a click-through page, but there is always a prominent button or link with a large call to action. The goal of a click-through page is to provide the information leads need to make a decision, moving them to the next stage of the sales funnel.
The Components Of A Successful Landing Page
The basic components of a landing page are:
A headline that succinctly expresses a value proposition.

A strapline or subhead that echoes or expands on the headline.

Sales copy. There is no limit to the length of the sales copy, and some landing pages run to several thousand words. But, in general, concision should be preferred.

A call to action. The purpose of a landing page is to elicit an action, which is expressed in the call to action, an instruction or offer that shows leads what they should do next.

A form to collect email addresses and other information,

or

a button that leads to a sign-up or order page.

Optionally, high-quality content may be offered in exchange for an email address or other information.
Let's see how some of these components are used on real-world landing pages.
In this Bankjoy landing page, we see four of the fundamental elements of a landing page. The offer is clear and straightforward: "Mobile Banking for Credit Unions". Personally, I would have made the call to action larger and with greater contrast relative to the background. But the action button itself is clear and easy to understand: "Schedule a demo". Images display the app in use and provide a demonstration of what to expect from it. Aside from those elements, the page is essentially bare.
Sallie Mae provides student loans for undergraduates. This page exemplifies the click-through landing page, with a bold value proposition and tagline, two CTA-equipped buttons, and a comprehensive description of the value proposition. The image of a model is an aspirational depiction of a happy student, and she's looking right at the upper call to action, a common device to focus attention on the most important part of the page.
Building High-Converting Landing Pages In WordPress
The structure of a landing page is not complex. In fact, WordPress provides everything you need to build an excellent landing page. Some of the most popular premium themes include landing page functionality, including Landkit, Stratus, and Pillar.
While these themes are a great choice, plugin-based landing page systems tend to offer a richer set of features.
Elementor

is a full-featured landing page solution that includes a drag-and-drop page builder with forms that integrate with leading marketing tools, including MailChimp, HubSpot, and ConvertKit.

Qards

is a landing-page builder with an innovative "Stack-and-Play" system that allows users to combine a wide variety of pre-designed cards. Qards users can create custom landing pages without coding.

OptimizePress

is best described as a WordPress marketing suite. It includes a landing page builder, but also offers many other marketing features, such as membership portals, authority blog sites and more. OptimizePress is a better option for marketers than small businesses owners looking for a quick and easy landing page solution, but if you need the features, it's a solid option.
Whether you want to build lead-generation landing pages, squeeze pages, or click-through pages, WordPress is the ideal platform. Although every landing page includes the same basic components, they can be organized in an infinite variety of patterns. To see how some some of the most innovative businesses have used landing pages to increase conversions, check out the examples on One Page Love, and Lapa for inspiration.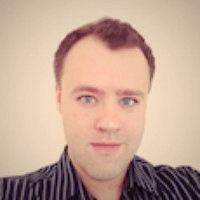 Graeme is a writer and content marketer at Nexcess, a global provider of hosting services, who has a knack for making tech-heavy topics interesting and engaging to all readers. His articles have been featured on top publications across the net, TechCrunch to TemplateMonster. For more content, visit the Nexcess blog and give them a follow at @nexcess.